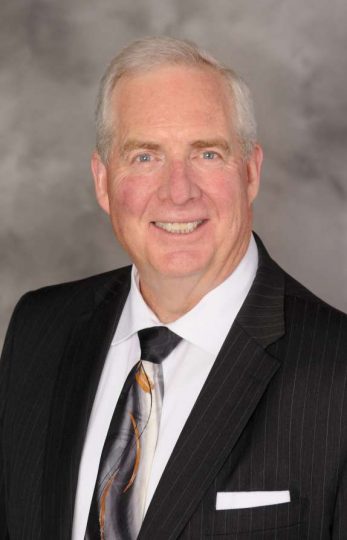 Education
Loyola University Chicago School of Law, Chicago, Illinois J.D. (Cum Laude-Top 2%) – 1980
American Jurisprudence Award, 1980
Associate Editor of the Loyola University Law Journal
Loyola University, Chicago, Illinois B.A. (Cum Laude)
Bar Admissions
Illinois, 1980
U.S. District Court Northern District of Illinois, 1980, Trial Bar
U.S. District Court Central District of Illinois, 2000
U.S. Court of Appeals 7th Circuit, 1981
U.S. Tax Court, 1986
Louisiana, 1981
Louisiana Supreme Court Clerkship 1981-1982
Memberships
Illinois Trial Lawyers Association
Illinois State Bar Association
Northwest Suburban Bar Association, President 2014-2015
Bench-Bar Relations Committee, Co-Chair
Board of Governors
Estate Planning Committee
Judicial Review Committee
Northwest Suburban Estate Planning Council
Community
Association of Community College Trustees, Director
Harper College
Illinois Community College Trustees Association
Kenneth Young Center, Past Chairman of the Board
Northwest Suburban Council Boy Scouts of America
Advisory Board
Endowment Committee
Schaumburg Business Association, Founding Member
Legislative Advisory Committee
Schaumburg Hoffman Estates Rotary Club, Past President
Bill has served as an elected Trustee to the Harper College Board since 2003. He is also active in the Illinois Community College Trustees Association (ICCTA) where he served as President. In 2015 Bill was elected as a director of the Association of Community College Trustees. Bill was a founding board member of the Schaumburg Business Association and the Schaumburg Prairie Center Arts Foundation. He has also served on the Executive Board of the Northwest Suburban Council of the Boy Scouts of America, St. Hubert School Board, St. Hubert Finance Board, and the St. Viator Alumni Board.
847-895-9151
WFKelley@kelleykelleykelley.com
AREAS OF PRACTICE
Business Formation
Business Law
Civil and Commercial Litigation
Estate Planning
Personal Injury
Tax Law
Workers' Compensation
BACKGROUND
Schaumburg and Hoffman Estates Attorney William F. Kelley ("Bill"), Managing Partner of Kelley, Kelley & Kelley, is recognized by his peers in the legal community to have achieved the highest level of professional excellence. He is listed in the Bar Register of Preeminent Lawyers™. Bill was named to the annual list of Top Attorneys in Illinois for his business and corporate work by Super Lawyers. He has been repeatedly honored with the designation of a Top Lawyer in the Global Directory of Who's Who. He has received the coveted "AV" rating from Martindale Hubbell, the highest rating allowed, a testament to his preeminence in the legal field. Bill concentrates his practice in transactional law, commercial,, business and corporate areas, estate and succession planning, asset protection, and civil and commercial litigation.
Bill has a wide range of experience representing corporate clients through employment matters, lease agreements, non-competition agreements, NDA's, shareholder agreements, and shepherding businesses in their mergers, acquisitions and sales, and when necessary, in litigation. Bill's experience, advice, and counsel in business law are shown throughout the community through his clients' successful business ventures. His counsel has been instrumental in facilitating the acquisition, sale, and transfer of multi-million dollar business ventures while minimizing the tax ramifications thereof.
Bill has also established a large estate planning practice representing clients in both complex and simple estate planning throughout Schaumburg, Hoffman Estates, Barrington and the Chicagoland area. Bill routinely works with clients with multi-million dollar portfolios to draft comprehensive estate planning. Bill has wide ranging experience drafting revocable trusts, credit shelter trusts, Qualified Terminable Interest Property trusts ("QTIP"), Generation-Skipping Trusts ("GST"), special needs trusts, and also works closely with clients who may need to decant their trust instruments.
Bill has also had a successful civil litigation practice representing clients in medical malpractice, product liability, personal injury, discrimination, fraud, and business actions. Bill obtained a $2.2 million dollar settlement in a wrongful death action and has routinely negotiated recoveries exceeding $500,000. William Kelley's numerous professional and civic memberships reflect his energy and vision.
Bill's work in the legal and civic communities as an attorney allows Bill to give comprehensive advice to his clients based on legal expertise and a thorough understanding of the communities in which his clients reside.
Here to Serve
– Established in 1959 –
Kelley, Kelley & Kelley was founded by John P. Kelley in 1959 on the principles of professionalism, exceptional work product, attentive service, and tenacious representation in the most cost effective manner. To this day those same principles are honored and aspired to by William F. Kelley, Matthew X. Kelley and Scott C. Zambo.
We continue to provide high caliber and cost efficient solutions for our clients. Whether you're in planning mode, transaction mode or crisis mode, we are here to guide you, protect you and fight for you.
Serving Chicago's Northwest Suburbs including Schaumburg, Hoffman Estates, Bartlett, Streamwood, Elgin, Palatine, Arlington Heights, and Barrington. The law firm and William F. Kelley have been honored with receiving the highest rating among their peers. William F. Kelley has been consistently rated among the top lawyers by Super Lawyers and Martindale Hubbell.